Lighting modifiers help make the full use of your light gear by freeing your creativity to control and shape light. In this article, Aries Tao will introduce various light accessories and how they affect your images.
Good day guys, your mate Aries Tao here. Welcome to Godox Light Modifiers 101. Today we are gonna discuss the Light Modifier: Umbrella.
Soft light is more pleasant than hard light in terms of portrait photography in general. And soft light needs a large light modifier because it's so lightweight. Umbrella is the most versatile lighting modifier you can easily carry anywhere with you, and the best part is it takes no time to set up.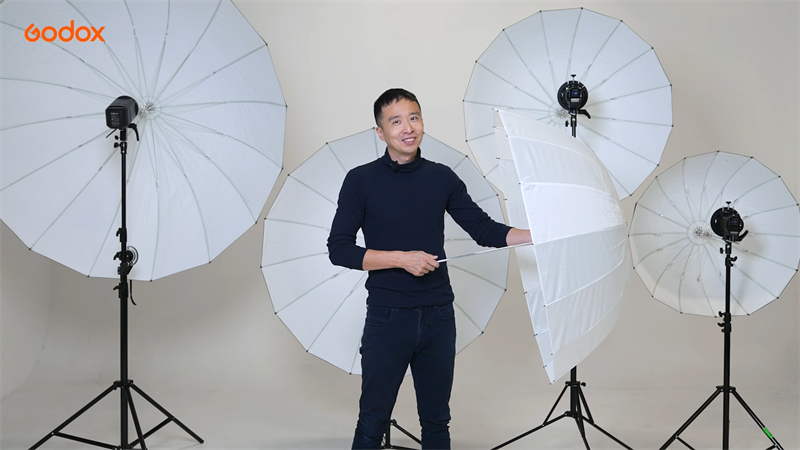 without Umbrella vs with Umbrella
First, let's compare the standard modifier which is a smaller light source with umbrella which is the larger light source. You can see that with the highlighter not so hot, the shadow is not so deep, and the transition in between is softened and blurred.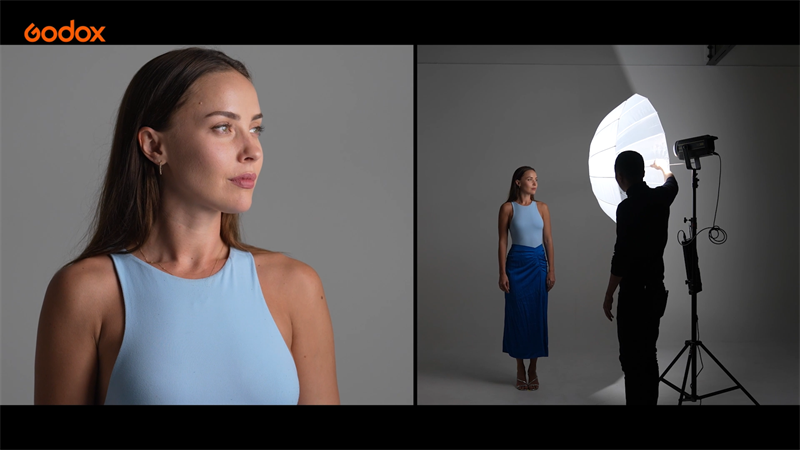 Tip one: changing the distance between the light and umbrella would affect how soft the light is.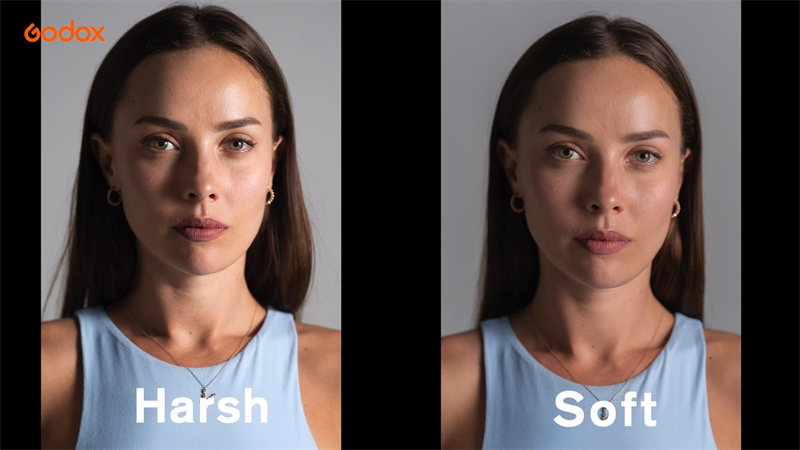 Tip two: watch the height of umbrella if you'd like to catch light in her eyes.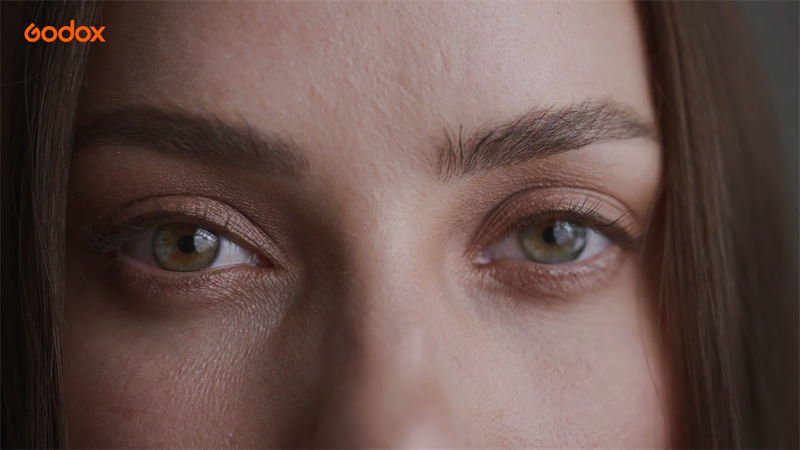 Translucent Umbrella or Reflective Umbrella?
Godox offers three kinds of umbrellas, translucent, white, and silver. Would you be using the umbrella in a restricted indoor space? Reflective umbrellas focus the light in one direction and translucent umbrellas diffuse the light in all directions. Are you using small strobe such as hotshoe flash? Then translucent umbrella would be a good choice.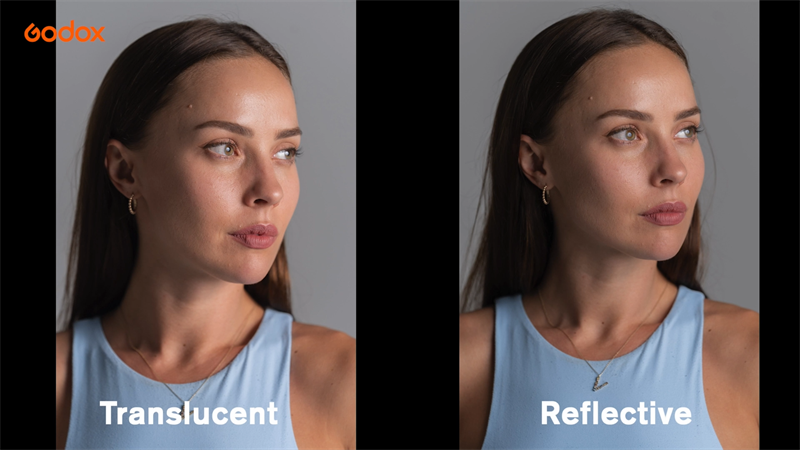 First, shoot-through of umbrella saves light output comparing with reflective umbrella. Second, with shooter which is a translucent umbrella, you can place the umbrella super close to your subject.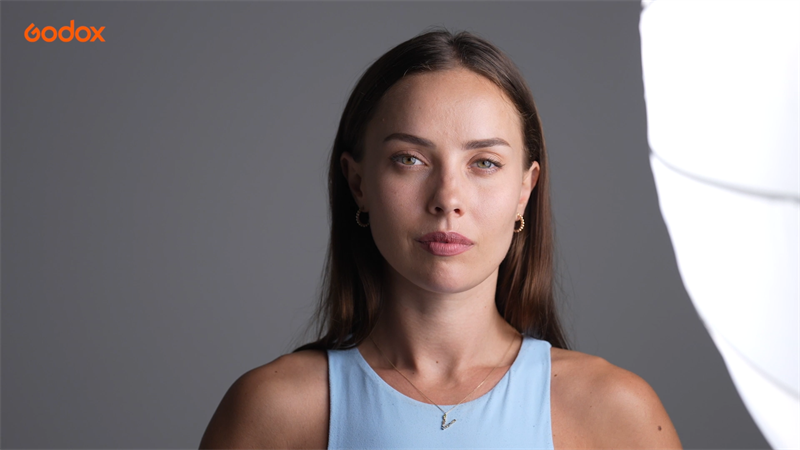 Comparing with translucent umbrella which offers one layer of diffusion, if you need further diffuse the light which is already soft, then go for the reflective umbrella. Reflective umbrella offers reflective plus diffusion option. You can choose how soft your light is by adding multiple diffusion layers if you wish to.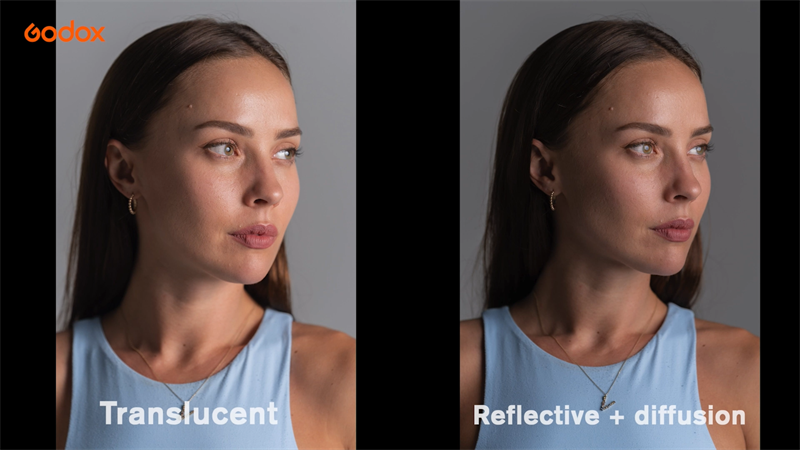 For outdoor photography, I would combine speed lights with translucent umbrella because translucent umbrella would save a bit of light output.
For larger strobes such as 8300 or 8600 pro I would combine them with reflective umbrella. The reason is that I can afford to lose more light output in exchange for further diffuse light.
As translucent umbrella diffuse light in all directions, reflective umbrella limits the light in one direction. I would use reflective umbrella to control the light spill, especially in restricted indoor space.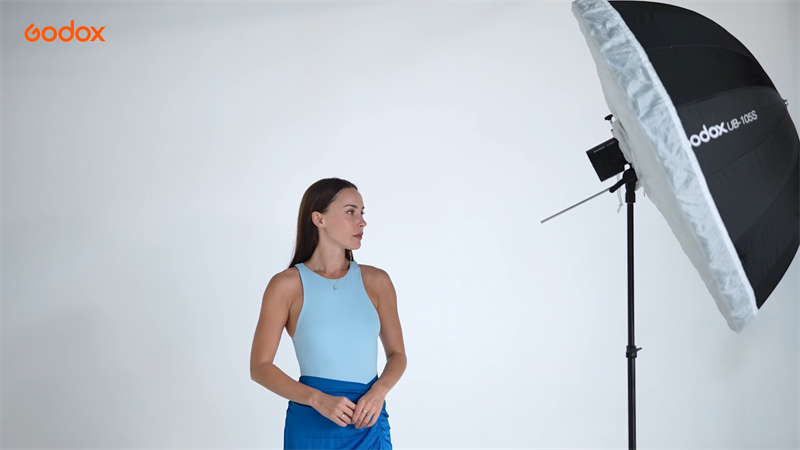 Silver Umbrella vs White Umbrella
Comparing with the white interior, silver interior reflective umbrella delivers slightly higher contrast and slightly higher light output which is more suitable for crispy fashion look, and the white interior delivers softer light which is ideal for an all-rounder look or portrait look.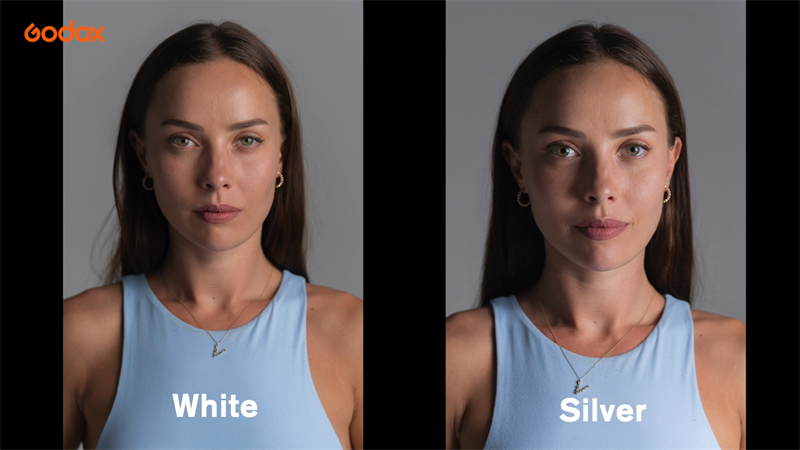 I would use the white interior plus diffusion for aged group, commercial portrait, family portrait. And use silver umbrella for high fashion model shoot, or I simply prefer higher contrast light from time to time.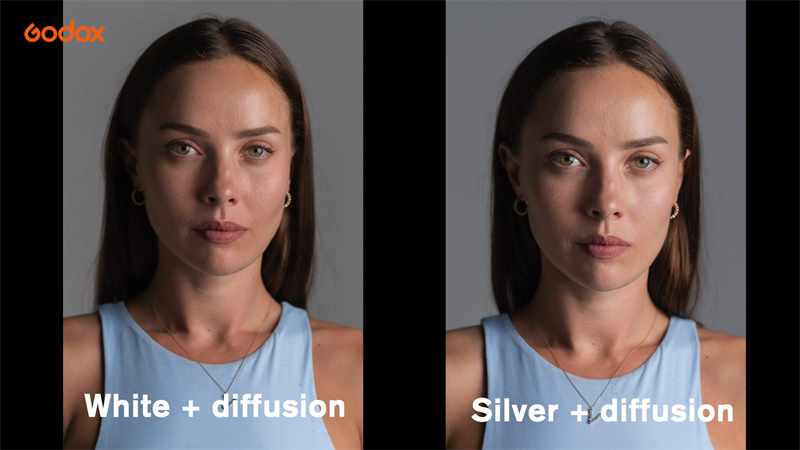 Which Size to Choose?
Godox offers four sizes of umbrella:85cm, 105cm, 130cm and 165cm.
It's a good idea to keep umbrella relevantly close to your subject to deliver soft light.
From a meter away, if we pay attention to the highlight over the forehead, and the shadow cast by the nose, all the umbrella delivers soft light with similar quality.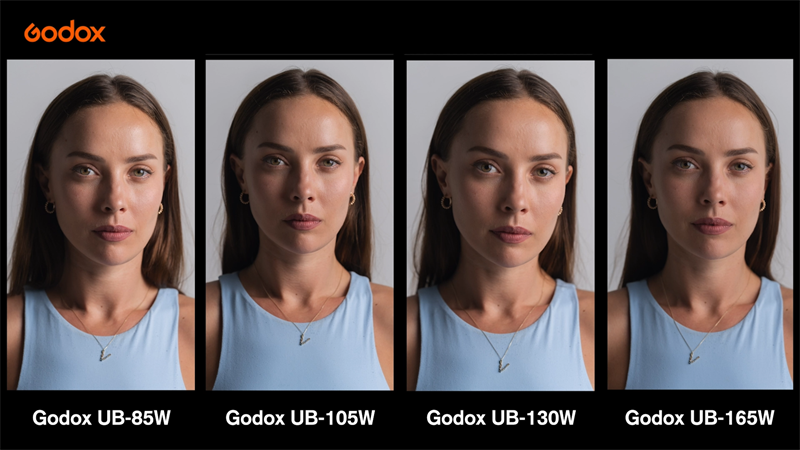 Note that the 85cm and 105cm only cover half body and 130cm and 165cm covers full body.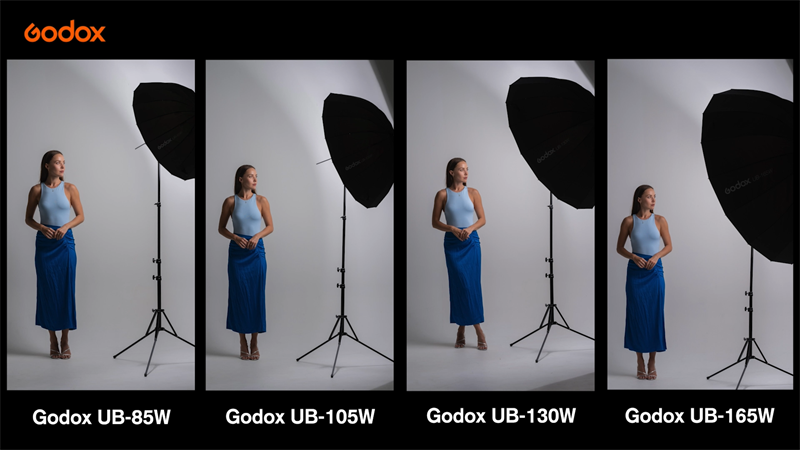 From two meters away, the 165 umbrella still delivers soft lights while covering the full body.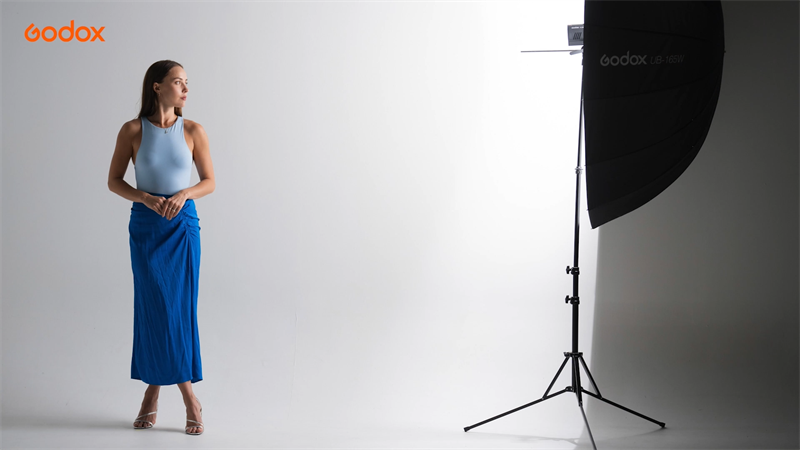 On the other hand, the output of 85cm umbrella appears to be noticeably harsher.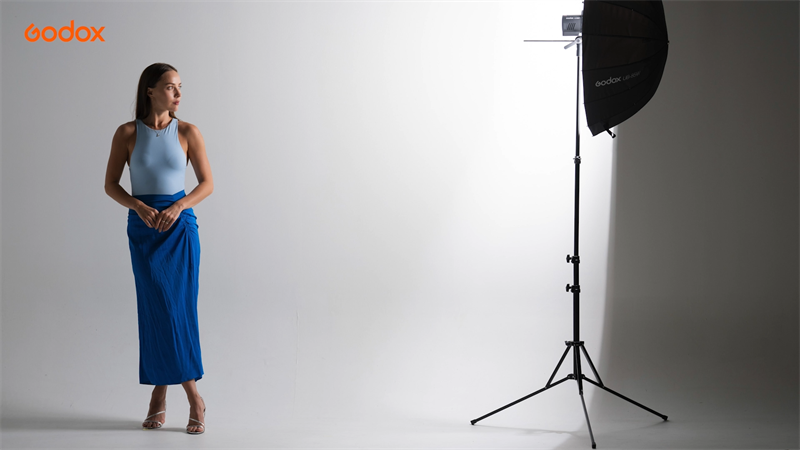 Everyone has their own recipe about how soft the light should be, and their own combination regarding the umbrella size, distance from the subject and etc.
I personally find 85cm and 105cm great for half body shoot. I find 130cm and 165cm handier when I shoot a full body portrait as the light is still soft when further away from the subject.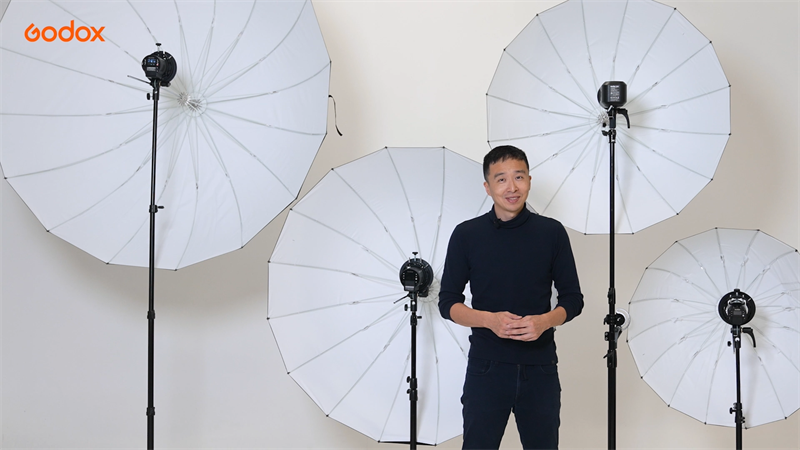 3 One-Light Setups with Umbrella
In the next 30 seconds I want to show you three ways of outdoor light setups with Godox 105 umbrella. Because the umbrella is capable of delivering very soft light, the light direction can be more forgivable. You can pretty much light your object from any direction you like. One of the most conventional ways will be used to mimic a window light source front side.
Tips: place the model at edge of the umbrella rather than the center umbrella for a feather softened light effect.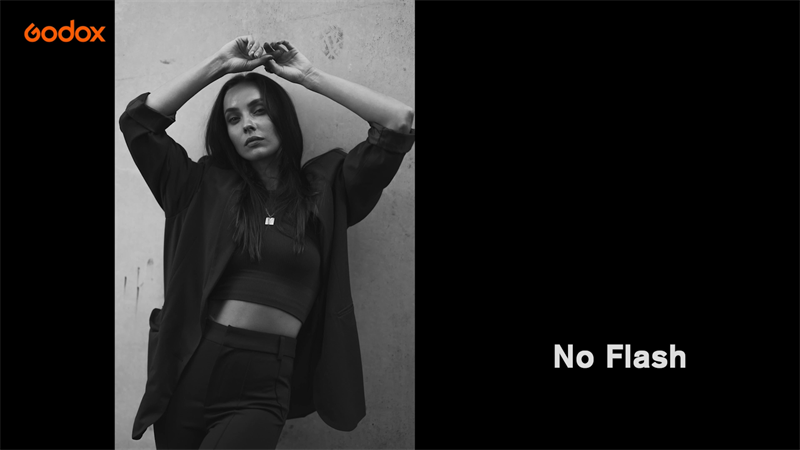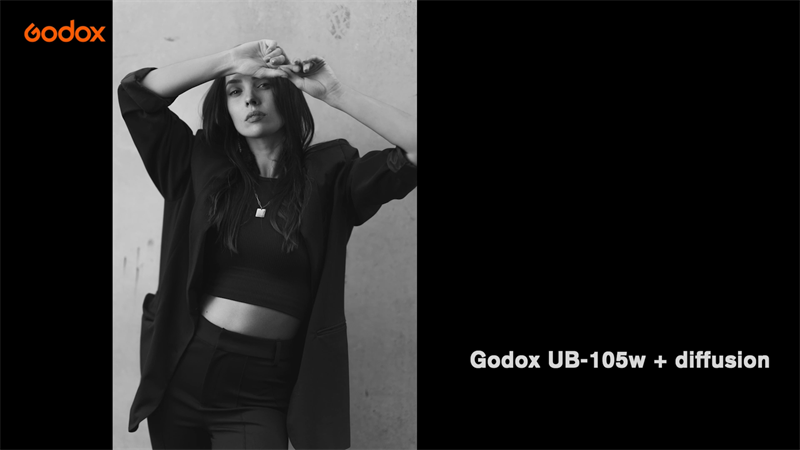 You can place the umbrella over her head to mimic a cloudy overcast day.
Tips: place the model at the edge of the umbrella to avoid the deep overcast shadow. Notice the light on her face is quite pleasant but not so much on her feet simply because it's 105 umbrella. That's why I would advise people to use 130 centimeters and 165 centimeters umbrella for a full body shot.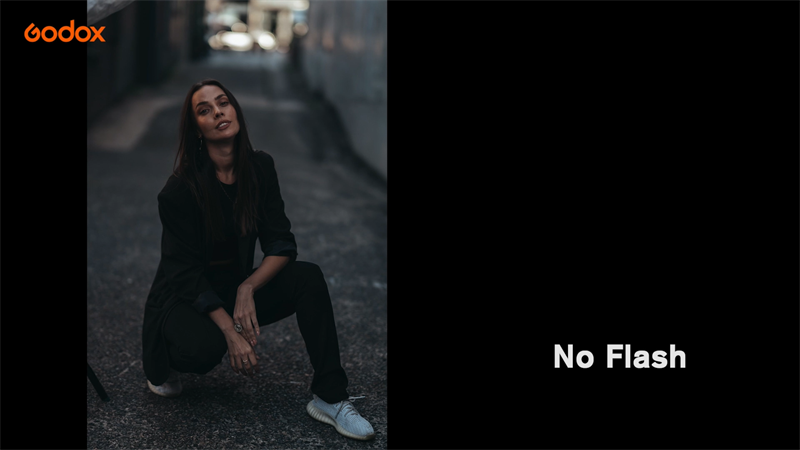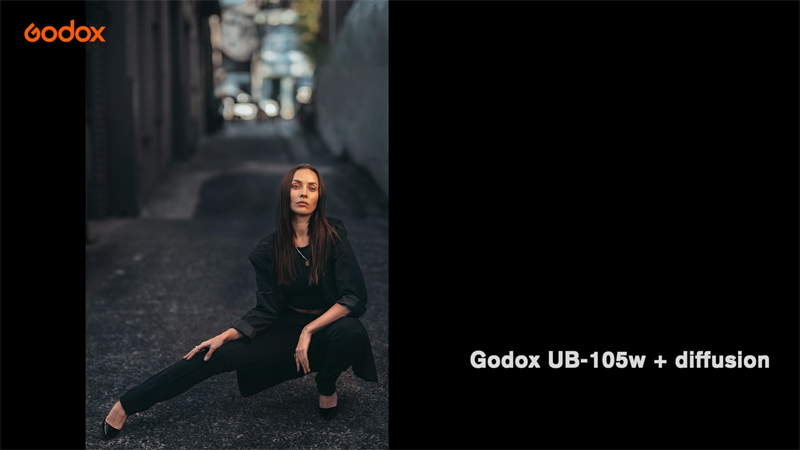 You can even also place the light below to fill in the shadow under her nose and chin, bonus is that you can even have this awesome catch light in her eyes.
Tips: for natural look, reduce your stops comparing with lighting her front side or top.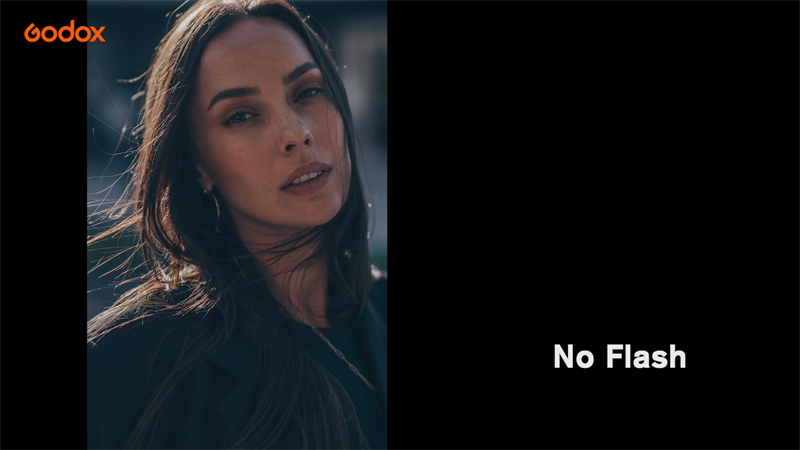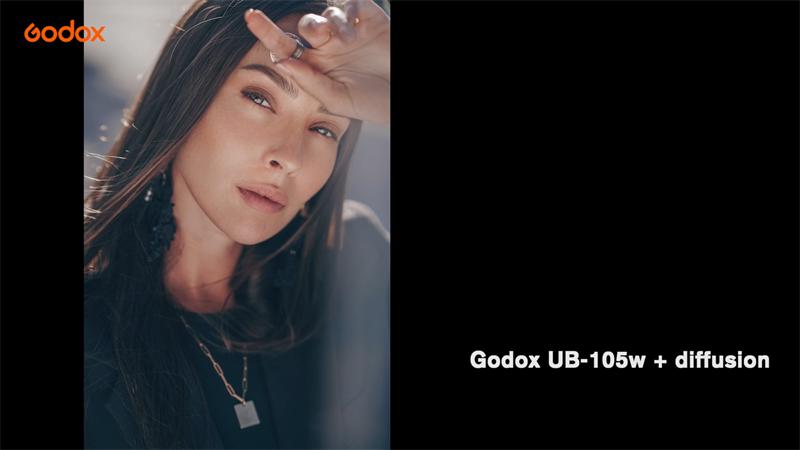 Godox offers one stop solution for all your photography needs. from Flash, LED lights, to light stands, and of course a wide range of modifiers. they've definitely thought of everything.