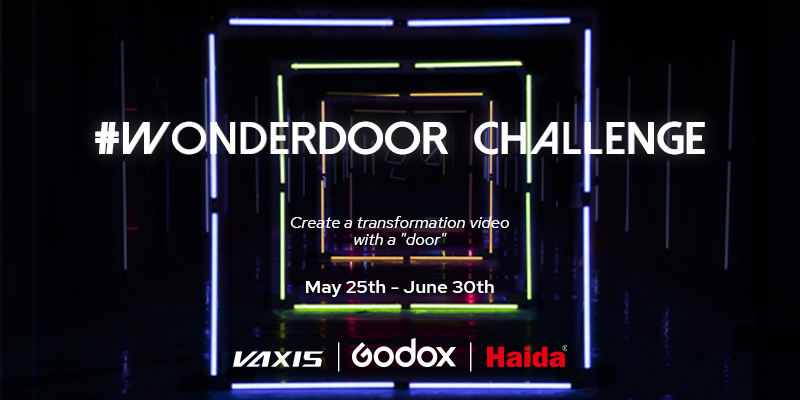 Ever thought of going through a wonder door that brings you big changes on the other side? Now let's dream bigger, light wider!
We're now launching the #WonderDoor Challenge for all creatives to free your imagination! Simply use lights and a "door" to create a transformation video that tells your amazing ideas. The subject who goes through the door could be anyone, anything. The door could be a real one or some door-shape lighting set-ups.
The impressive submissions will be awarded great prizes!
First Prize: Godox TL120 4-Light Kit, Godox GM55 Monitor, Haida NanoPro Mist Black 1/4 Filter, Vaxis VFX 150mm Handheld Filter
Second Prize: Godox LD75R, Haida NanoPro Mist Black 1/4 Filter, Vaxis VFX 95mm Filter
Third Prize: Godox UL60Bi, Haida NanoPro Mist Black 1/4 Filter, Vaxis VFX 95mm Filter
Come join us now!
How to enter?
Step 1: Create a transformation video under 60 seconds that uses at least one Godox light, and a "door" must be included in the process (could be a real one or some door-shape lighting set-ups).
Step 2: Have behind-the-scenes clips or images after your transformation video (under 60 seconds).
Step 3: Submit your entries by posting this video on Instagram with hashtag #WonderDoor, follow and tag @godox_global, @haidafilter and @vaxis_global; or drop us an email with your content at community@godox.com.
Step 4: Share a short description with your post to introduce your idea and tag your gear (e.g #TL30).
Submission Time: May 25th - June 30th
Winners announced: July 5th
We will repost winners' works on our Instagram @godox_global, and credit each post with its creator.
We want you in #WonderDoor Challenge! Let's have fun and get creative!
#WonderDoor Challenge Rules including it's Terms and Conditions.
Information on how to enter and prize information forms part of the terms of entry. Entry into the competition is deemed acceptance of these terms and conditions.
Entry is open to all Godox users with valid mailing address, who are 18 years or older. However, employees and their immediate families of GODOX Photo Equipment Co. Ltd are not eligible to enter.
Video/Images created with Godox lighting equipment and must be original. The music shall be loyalty free(if any). For the final video, a BTS short clip or photo showing the lighting placement shall be included after the transition video. A short description about your work and the placement of lighting gears is required.
The challenge aims to encourage video creators to use Godox equipment to create.
All entries must not infringe upon the legal rights, including copyrights, trademarks, contract rights, or any other intellectual property rights of any other person or entity.
The content of any uploaded files are copyright to their respective owners. All other content is copyright GODOX Photo Equipment Co. Ltd. GODOX Photo Equipment Co. Ltd. is not responsible for the content or any uploaded files, nor is it in affiliation with any entities that may be represented in the uploaded files.
All images or videos submitted may be used by GODOX Photo Equipment Co. Ltd. for marketing this promotion on its websites and social media pages without further compensation.
Godox lighting products will be awarded as prizes. Prizes are not transferable and may not be exchanged for other prizes or cash. The winners will be notified within 7 days of the winners being announced, the winners must reply to the social media posts or emails we place to collect their prizes within 36 hours, or another winner will be drawn.
The prizes will be awarded to the person who share the winning #WonderDoor videos with the correct hashtag and meet all the rules outlined in this document.
GODOX Photo Equipment Co. Ltd's selection of the winners and any aspect of this competition is final and binding on all entrants and no correspondence will be entered into. Any failure by GODOX Photo Equipment Co. Ltd. to enforce any of its rights at any stage does not constitute a waiver of those rights. GODOX Photo Equipment Co. Ltd. reserves the right to cancel, modify or suspend the contest if it is not capable of continuing as planned for any reason. Changes made to the contest will be posted on the GODOX Photo Equipment Co. Ltd. social media pages.