#AD100Pro #portrait photography
Photographer Ky Luu shows how he uses the simple but powerful AD100Pro three lights backpack kit for on-location portraits. Change in light makes images more stylish, from no flash to the perfect touch of a third light.
Background
I am Ky Luu and we will be shooting "Run and Gun" style creative portraits on location using the Godox AD100Pro three lights backpack kit.
Firstly the CB-20 backpack is big enough to hold two camera bodies and two lenses. It fits all three AD100Pros with plenty of room for accessories. AD100Pro is powerful enough as a key light, and also small enough to hide anywhere as a hair light or background light. Besides the light, the backpack contains two umbrellas. UBL-085T (translucent umbrella) comes with a black diffuser cover to increase your light output. UBL-085S (Silver umbrella) comes with a translucent diffuser cover, so you can further soften the light if desired.
Setup 1
Our first location is at the beautiful historic Port Adelaide where we photographed beautiful G under the old historic boat ramp. For this image, I used a three-light setup: one 45 degrees to her left reflecting a silver umbrella, another to her right with a translucent umbrella, and the third light at back to make her pop from the background. Because it is an overcast day, I also attached an orange gel to the backlight to mimic a warm sun glow. Now, 99% of photographers will probably put the backlight on an angle to mimic the sun shining through from the side of the image but sometimes I just love to not follow the rule and do something different. I want people to know this is a fake light not from the sun. Sometimes, this will create more attention. I want the viewers to be drawn to the light, then to the model's face before everything else in the image.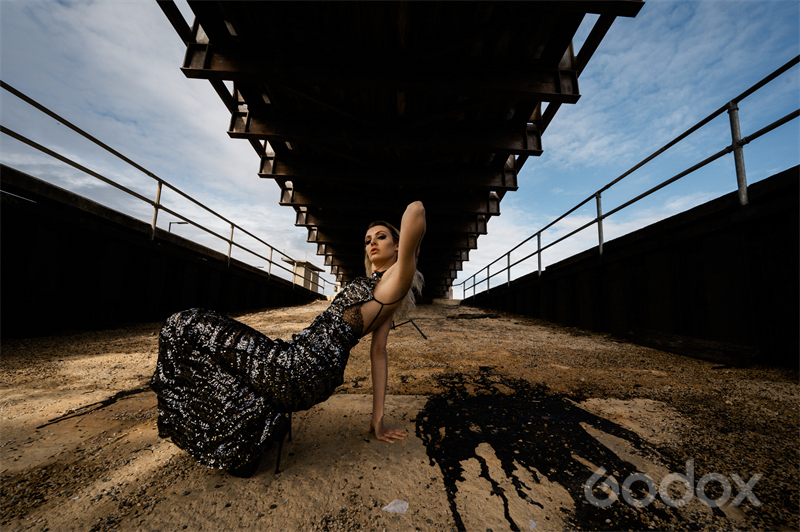 Without flash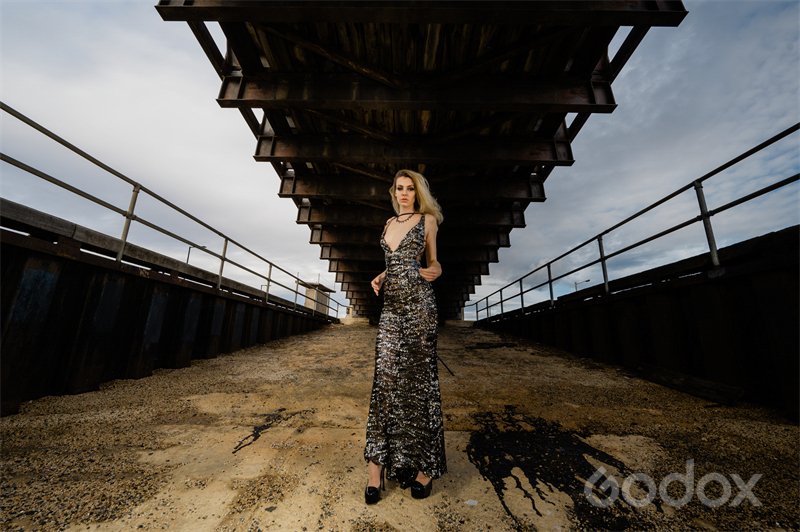 AD100Pro + UBL-085S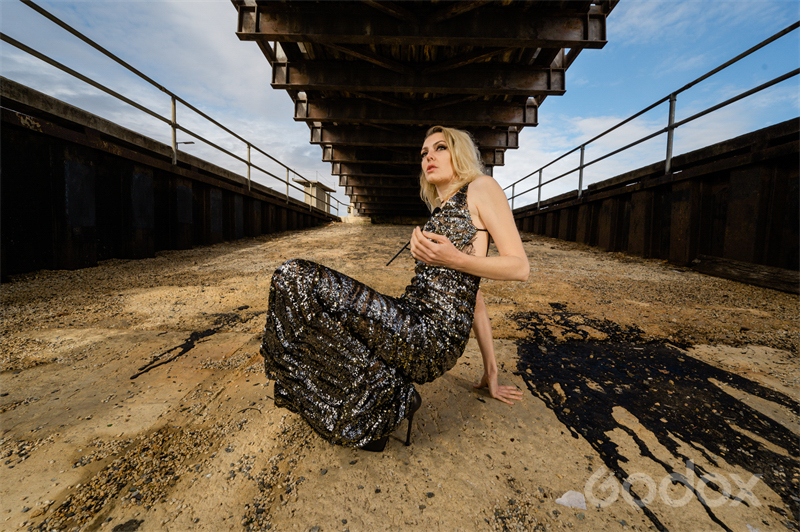 AD100Pro bare bulb
AD100Pro + UBL-085S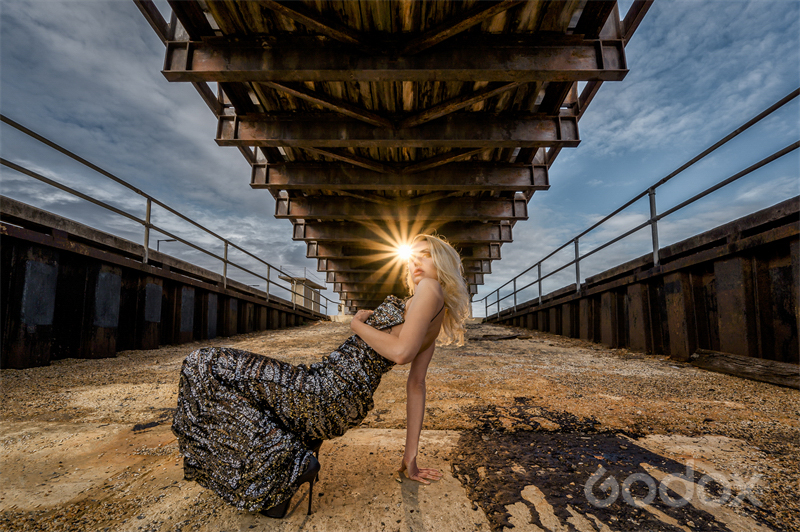 AD100Pro bare bulb
AD100Pro + UBL-085S
AD100Pro + 1/2 CTO
Setup 2
For the next image, we found a charming old fishing boat and noticed the amazing clouds that were forming from the back. Because the sun was at the back of the model, I am grateful that I have the Godox three lighting kit with me. I immediately asked G to sit on the edge of the boat and placed the Godox AD100Pro to left with a grid to direct the light and focus it onto G, another one to her right, and finally a third light with a grid to illuminate her stunning leg and the dress. The three lights kit is so small, lightweight, and simple that I don't even need an assistant to help me during the day. If I need to do the same thing previously, there will be a full production team with at least one or two assistants on set. With the AD100Pro three lights backpack kit, it was so simple to pack up and light to carry. It only took me a few minutes to pack everything up in a small backpack ready for the afternoon shoot.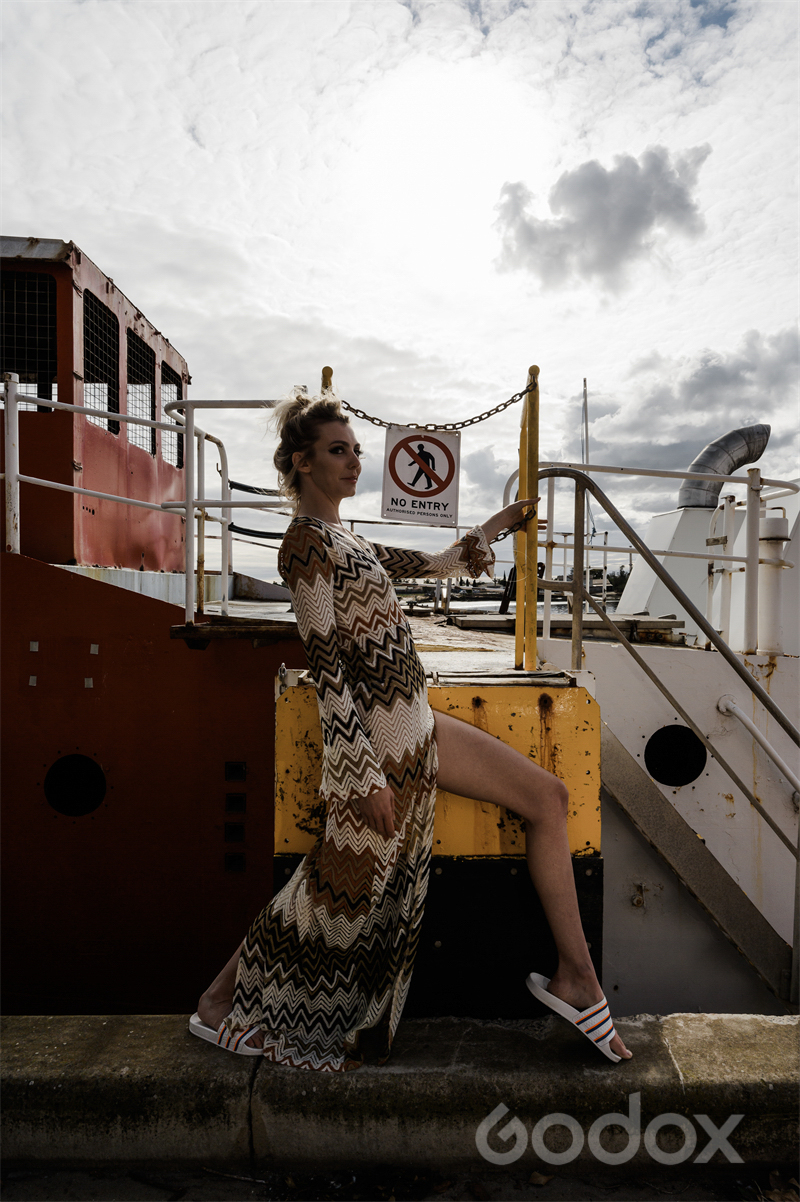 Without flash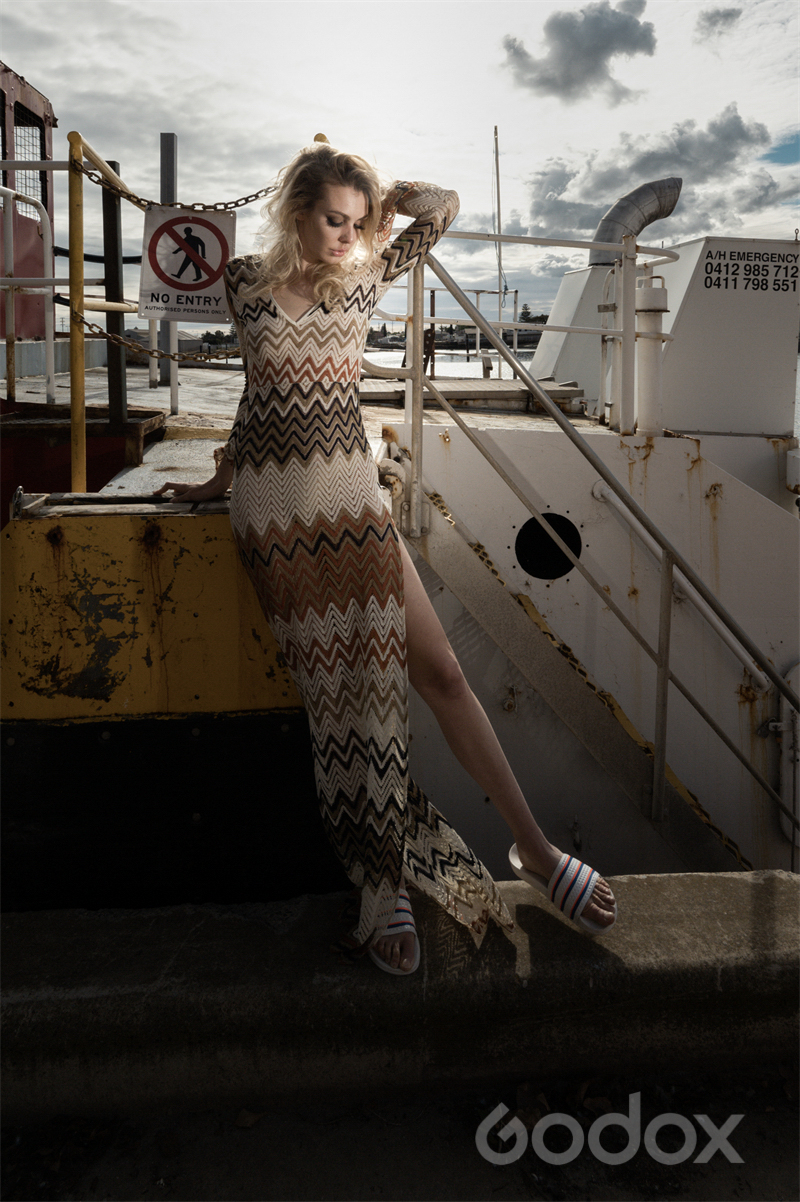 AD100Pro + Grid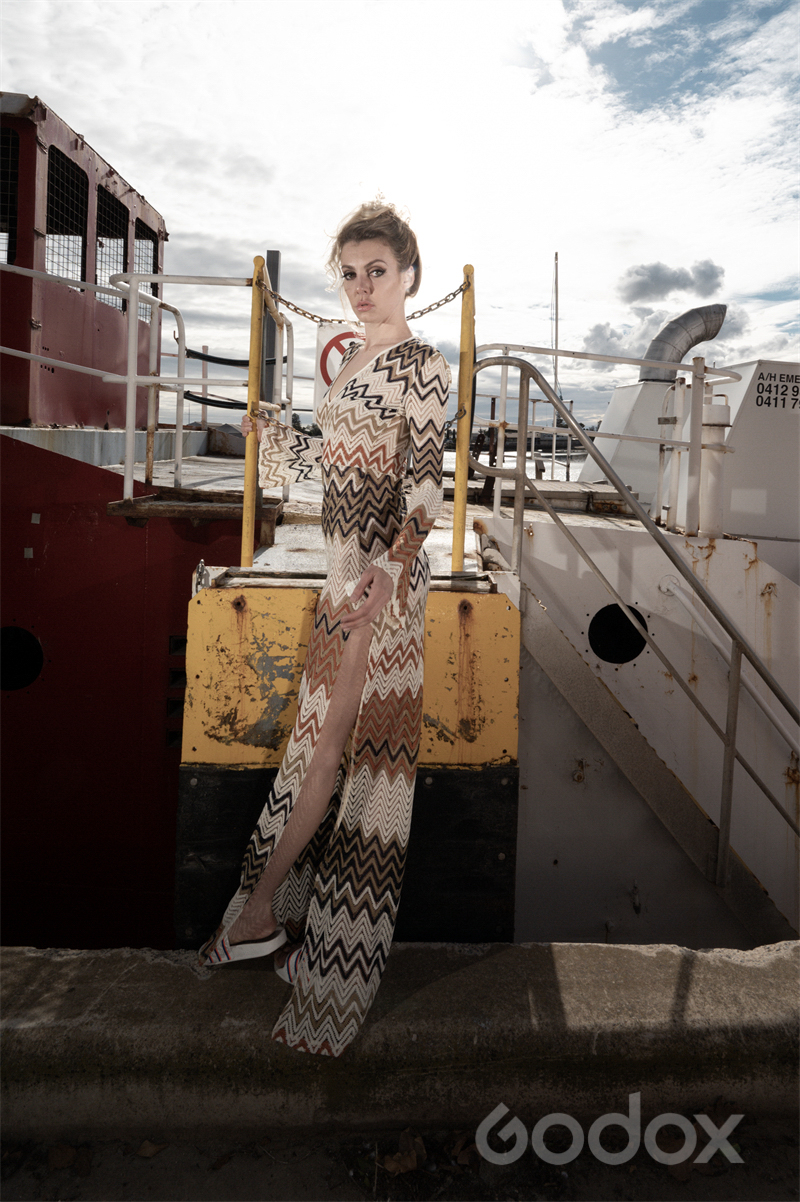 AD100Pro x2 + Grid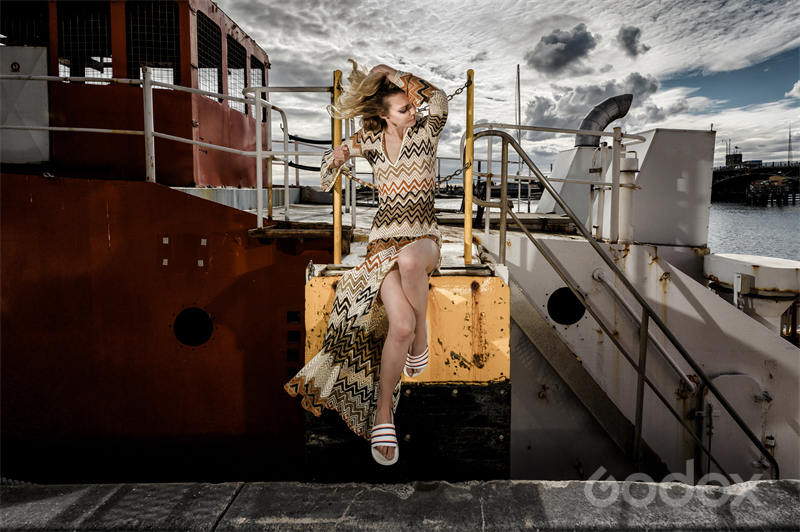 AD100Pro x3 + Grid
Setup 3
Our ballerina L blows my mind with what she can do. As soon as I saw this door, I knew I had to shoot there. Rather than simply having L standing next to the door, I wanted to convey how feather-light and angelic L is. I want her to float in the image. Knowing how feather-light she is, I believed that the door will have no problem supporting her. End of the day, I do not want to injure L or do any damage to this antique door or the property that the owner has kindly allowed me to photograph here. The lighting setup for this is so simple, one on the left and another on the right. To make the light even on L's skin, I chose to use the silver and translucent umbrella over the AD100Pro. You can see why two lights are a must to produce this image. If I can access the property, I will even use the third light from the back to make this image look even more magical.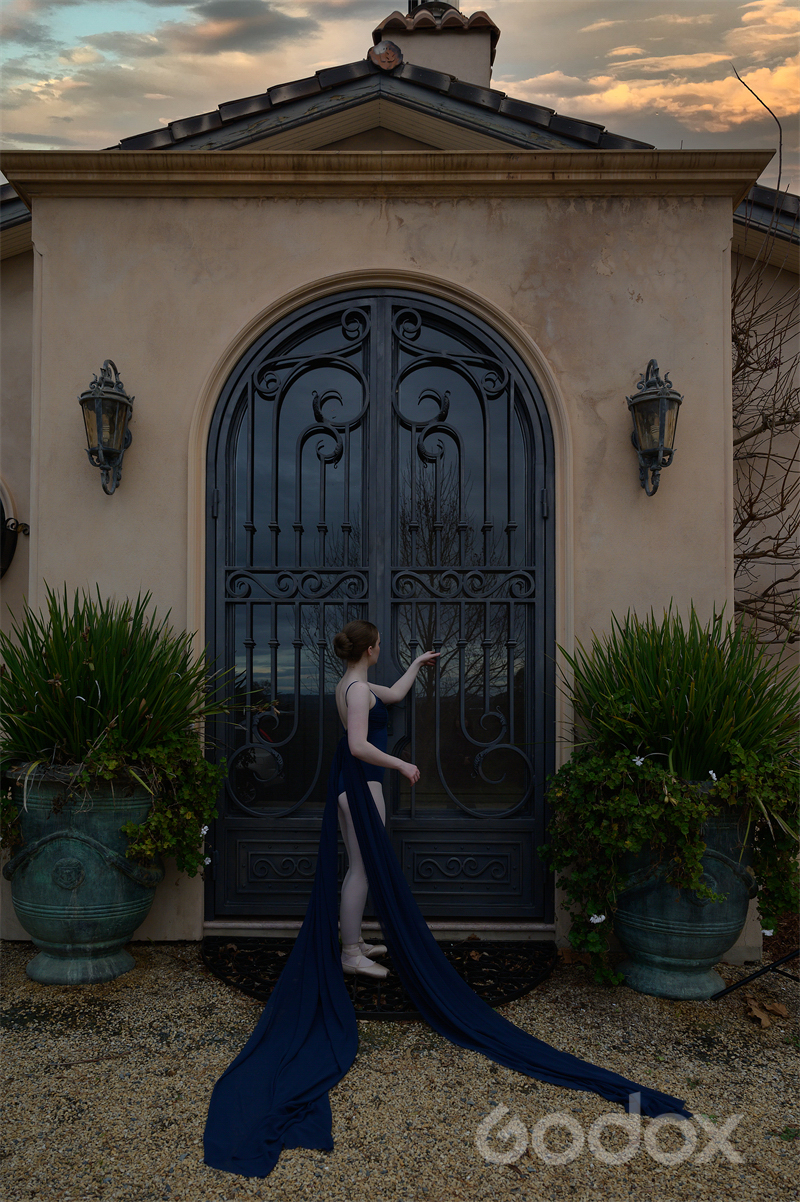 Without flash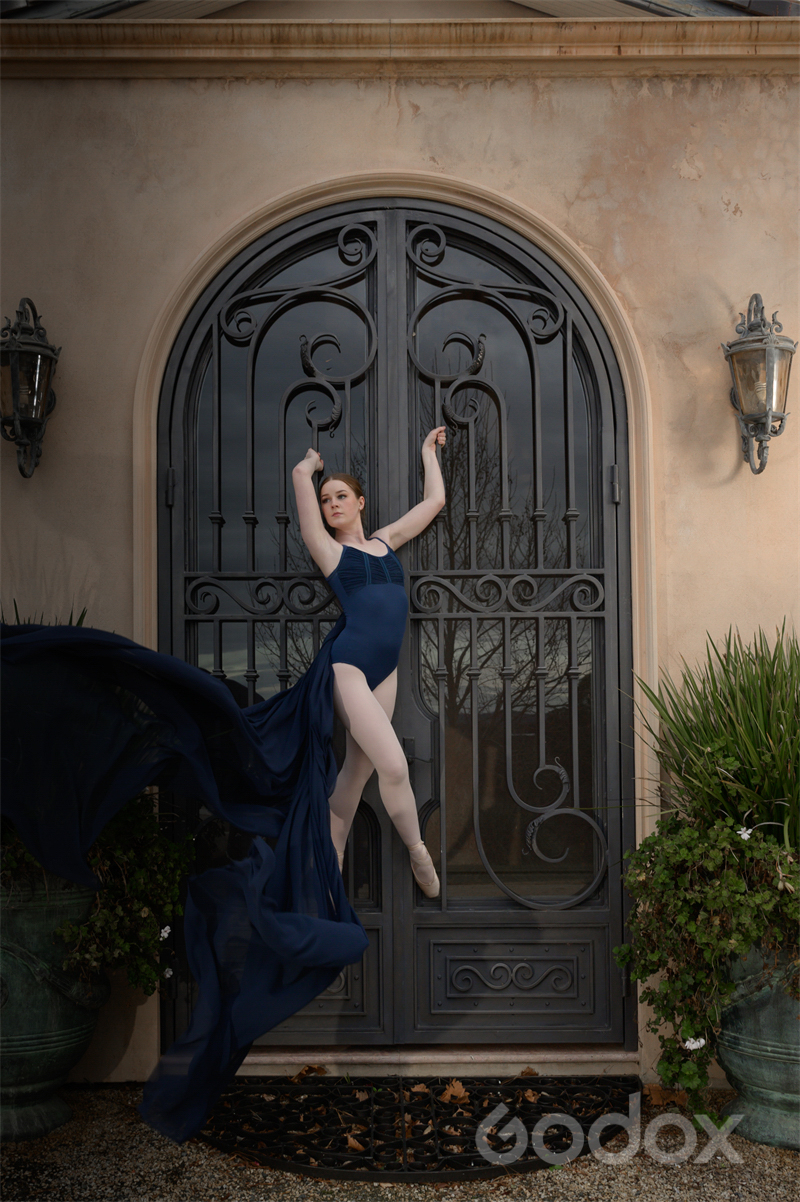 AD100Pro + UBL-085T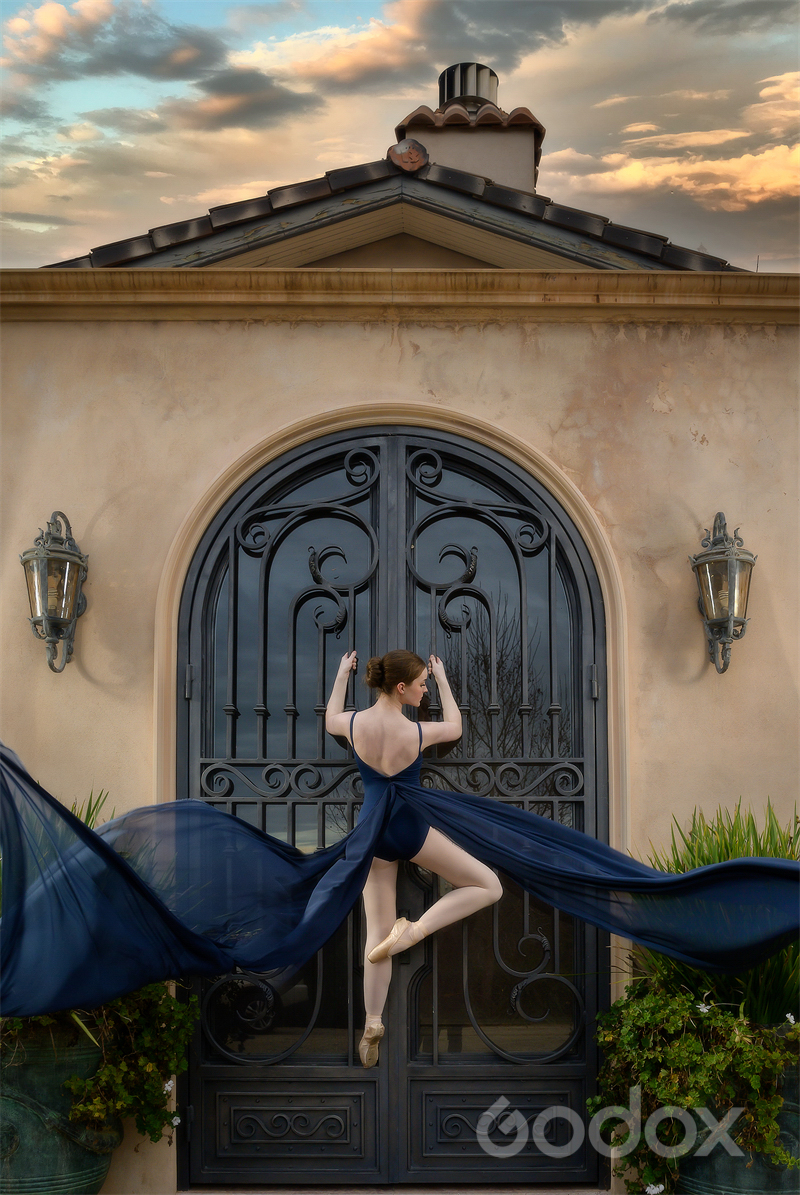 AD100Pro + UBL-085S + Dome
AD100Pro + UBL-085T
Setup 4
The next image is moodier and how easy it is to create using the Godox lighting kit. With the included Ak-R1 small light modifier kit, I was able to use the color gel to create this image. On the left, I placed the orange gel on the AD100Pro and bounced the light off the silver umbrella to produce a softer yet slightly stronger orange glow compared with using a translucent umbrella, with the other AD100Pro to illuminate the tree with a simple blue gel. Here are the images when no light was used and when just one light was used. Having the flexibility of multiple AD100Pros, you can create whatever your vision desire.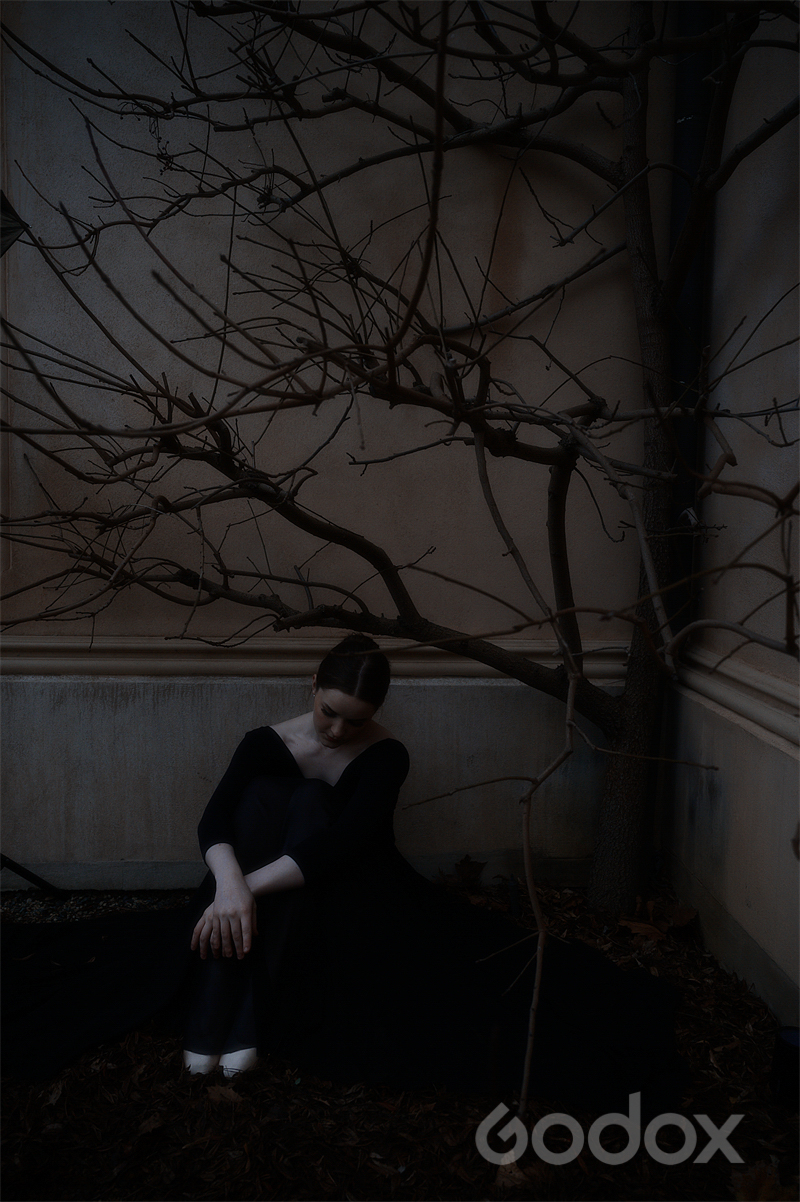 Without flash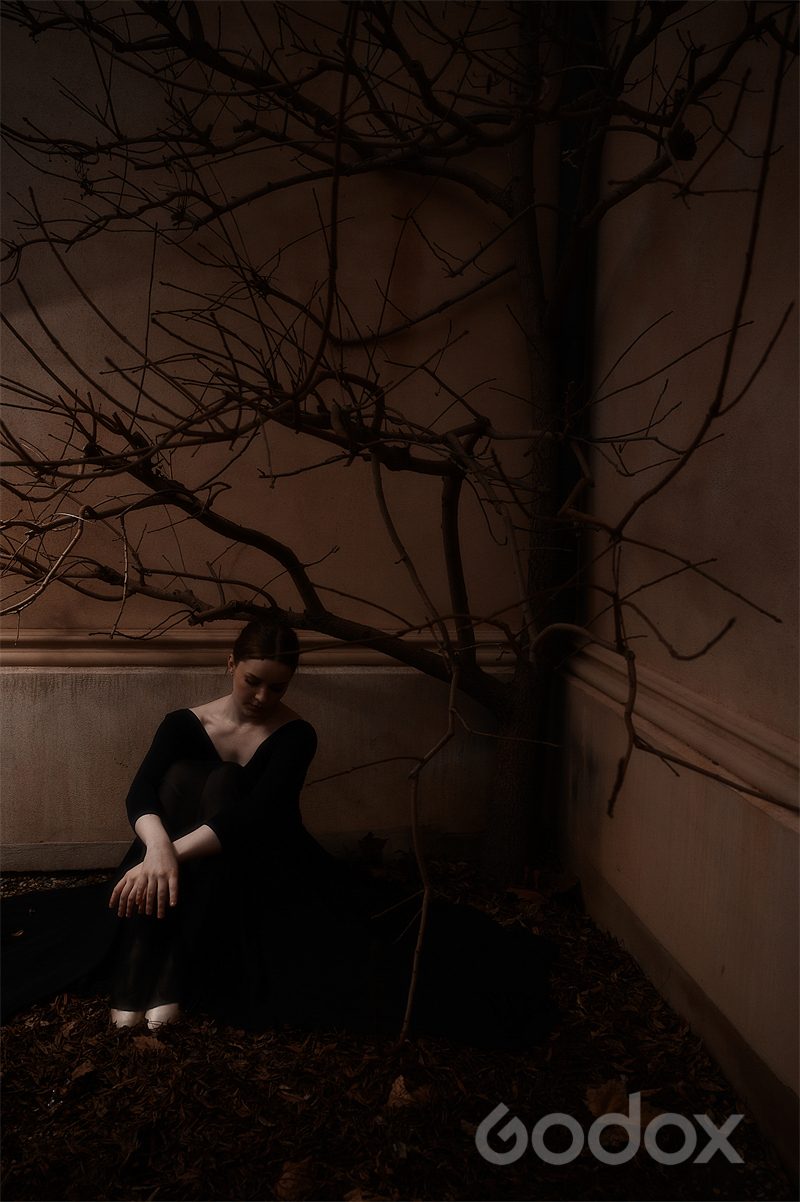 AD100Pro + UBL-085S + 1/2CTO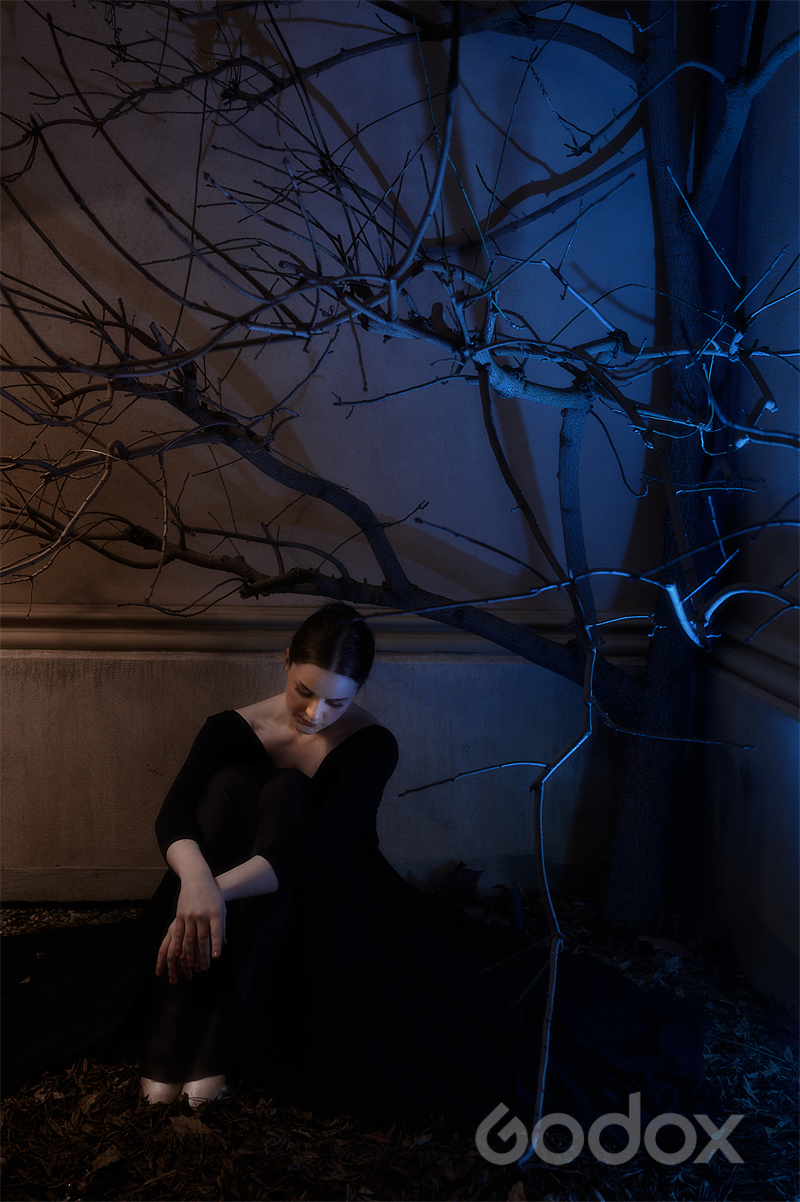 AD100Pro + UBL-085S+ 1/2 CTO
AD100Pro + Blue Gel
Setup 5
I cannot explain how lucky I was with my next shot. A sunset like this does not last long. But with the simplicity of the AD100Pro Godox lighting kit, I still have time to set up three lights to illuminate this image and to freeze L dancing in midair. Here is the image with no light, and the next image with only one AD100Pro shooting through a translucent umbrella. A second light simply on the floor with an orange gel gives it a little more warm in the background and the third at the back makes L truly pop in mid-air!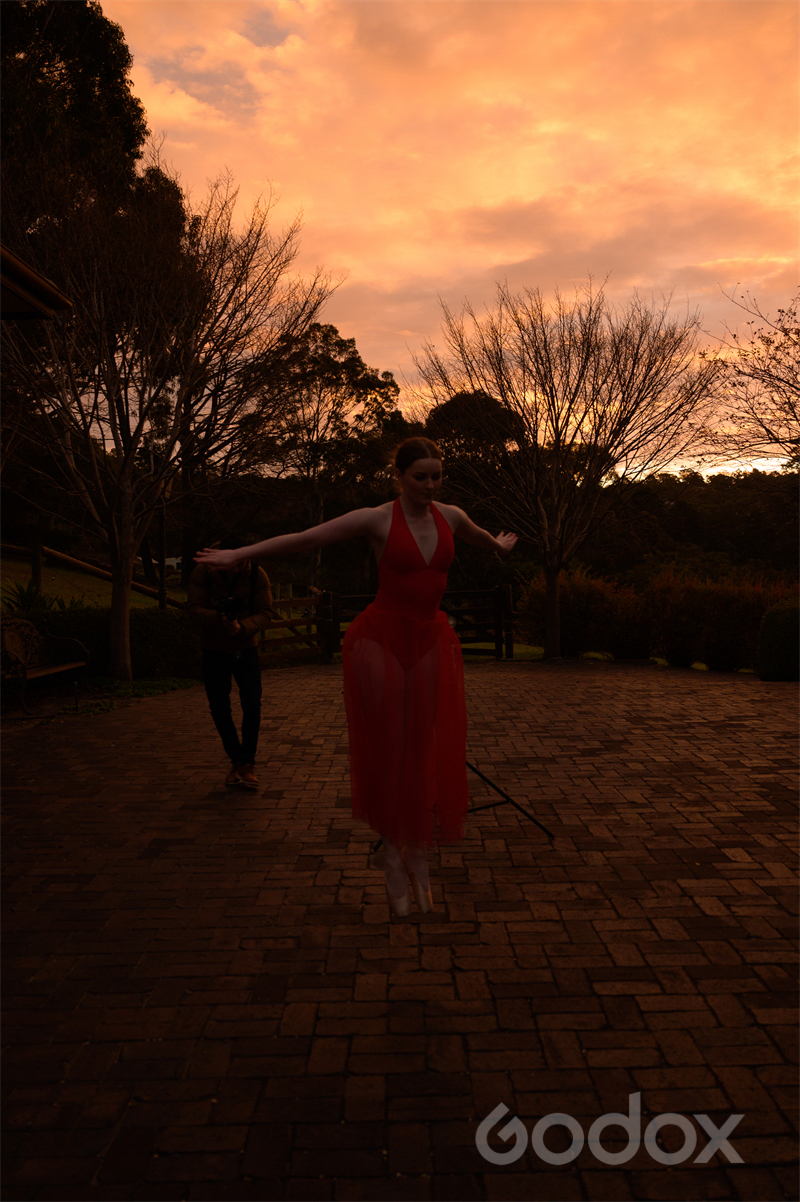 Without flash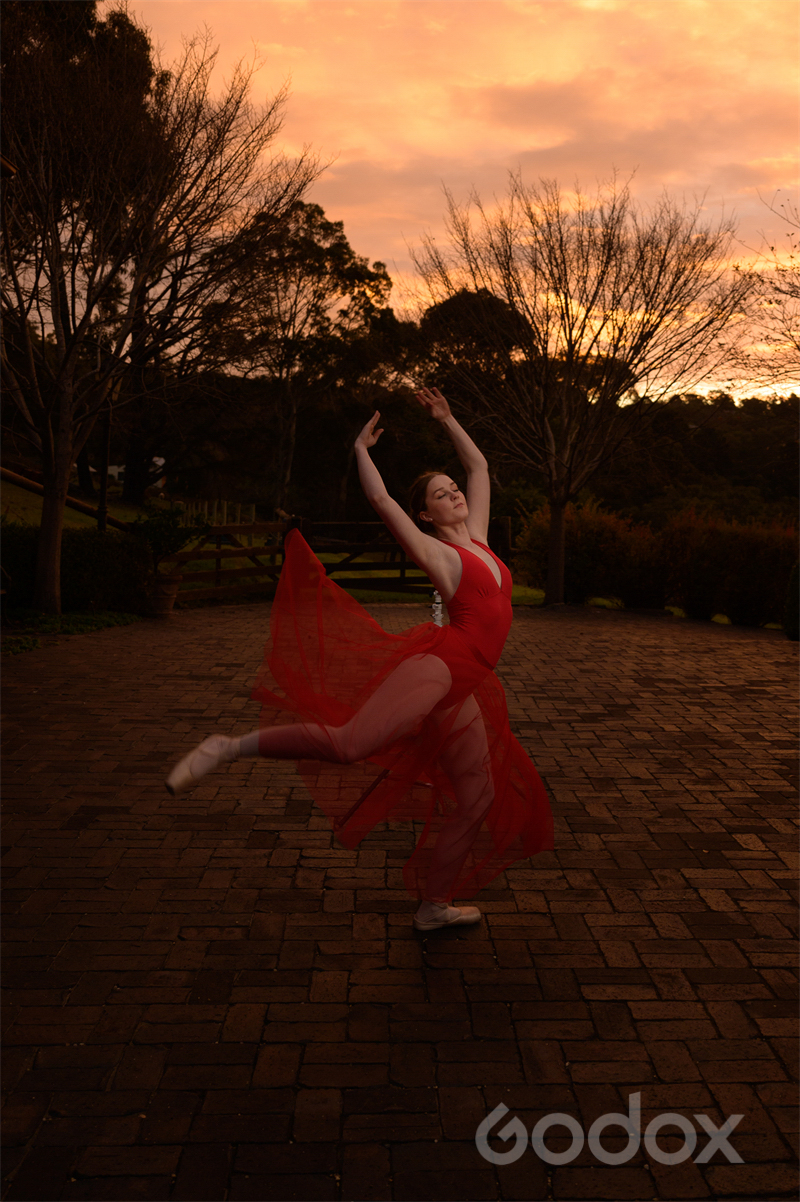 AD100Pro+UBL-085T+Dome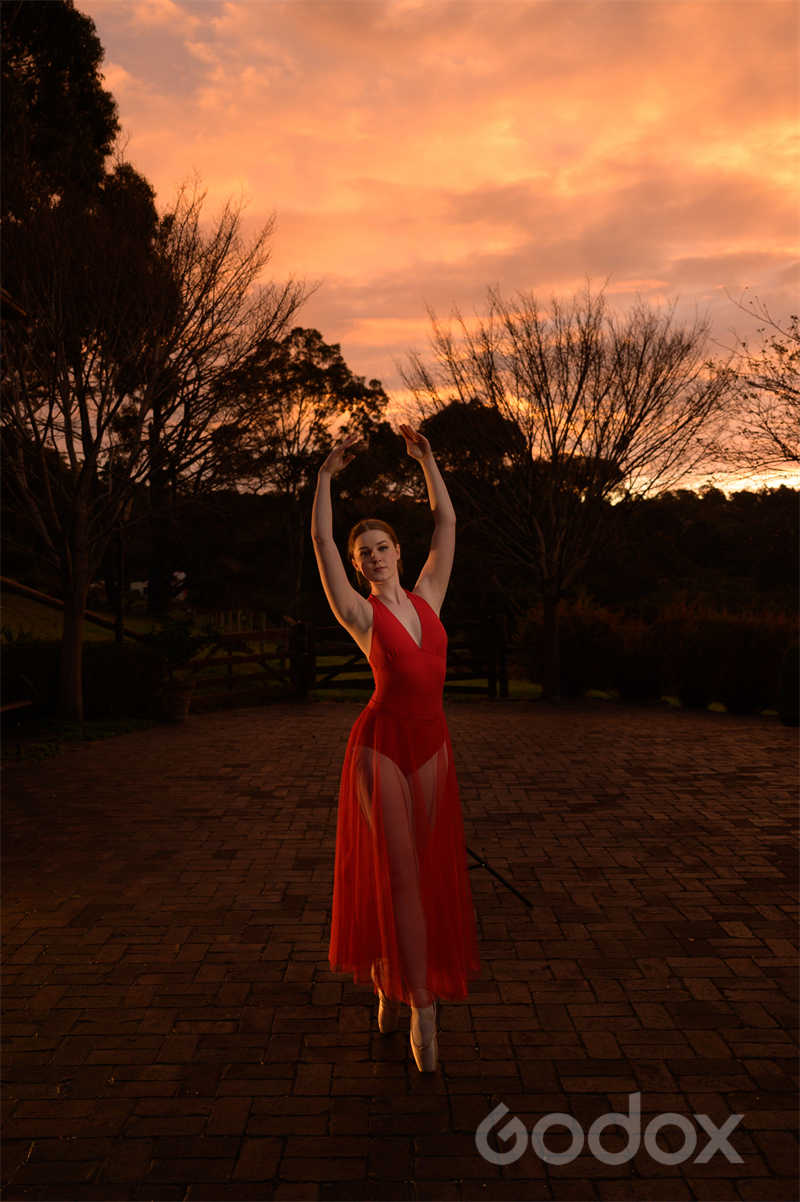 AD100Pro+UBL-085T+Dome
AD100Pro+1/2 CTO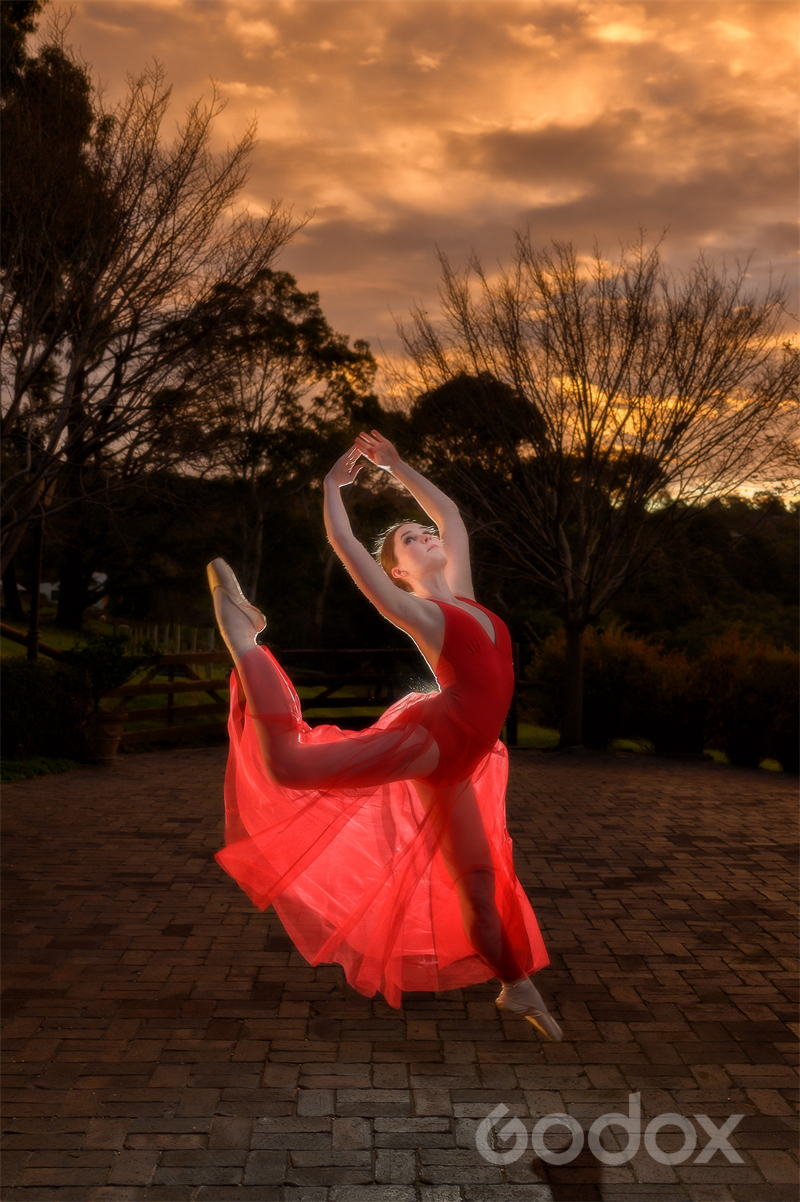 AD100Pro + UBL-085T + Dome
AD100Pro + 1/2 CTO
AD100Pro bare bulb
Setup 6
I purposely waited until it was getting dark to help bring my next vision to life. In this shoot, I only used 2 lights but I wished that I have put in a third light to lift the shadow a bit more from the left. Here is the photo when only natural light was used as follows. You can see the difference with one light shooting through a translucent umbrella. When you add in a second light, it simply brings the image to another level.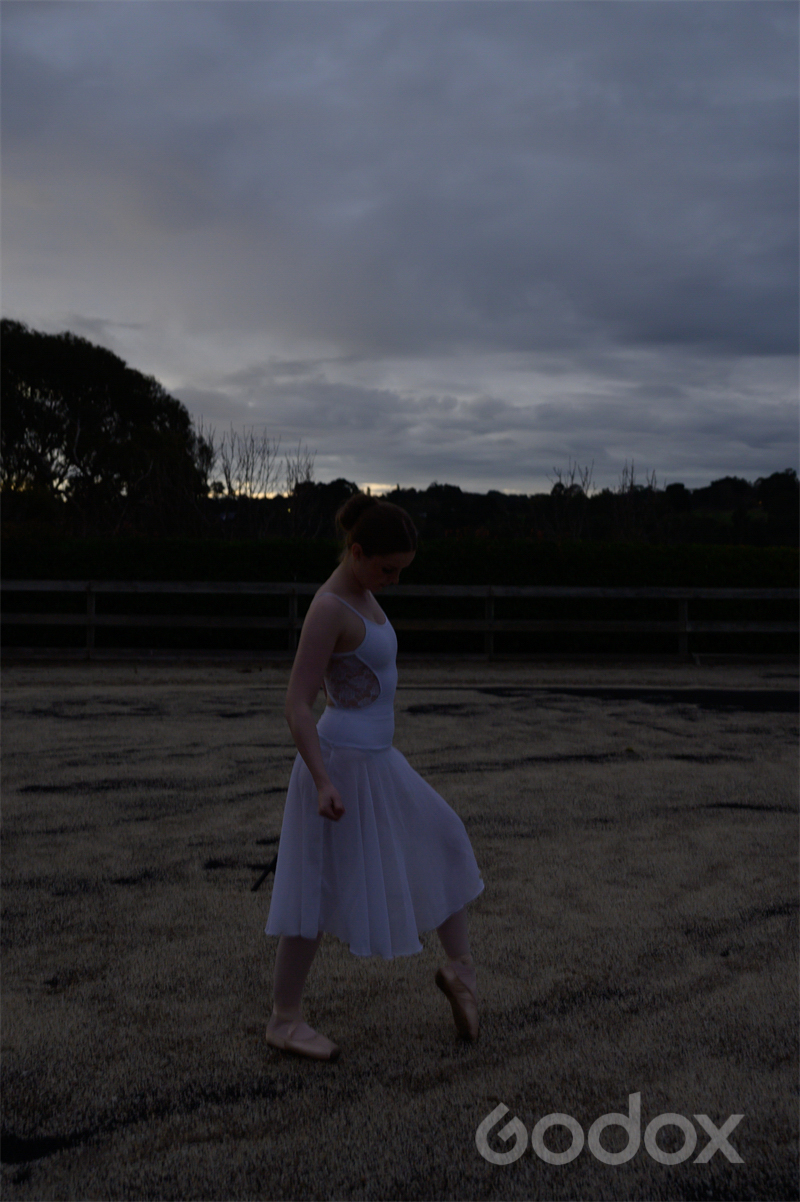 Without flash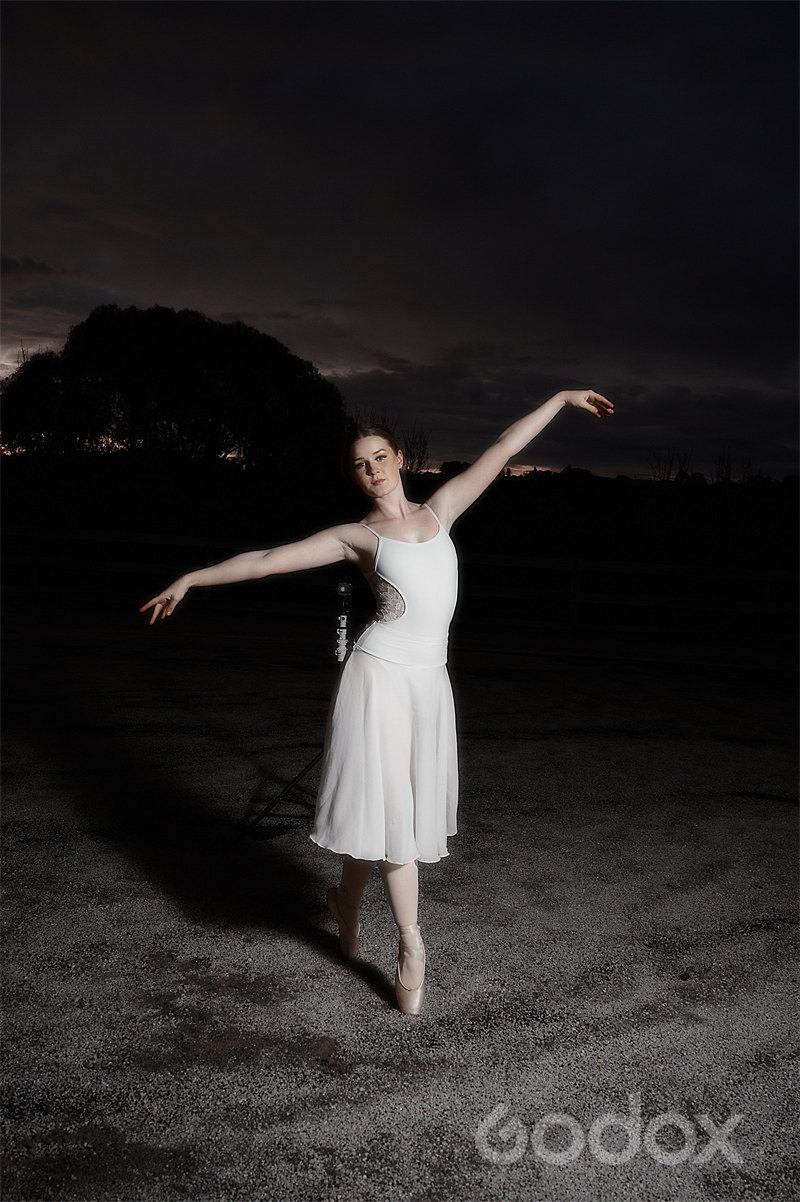 AD100Pro + UBL-085T+Dome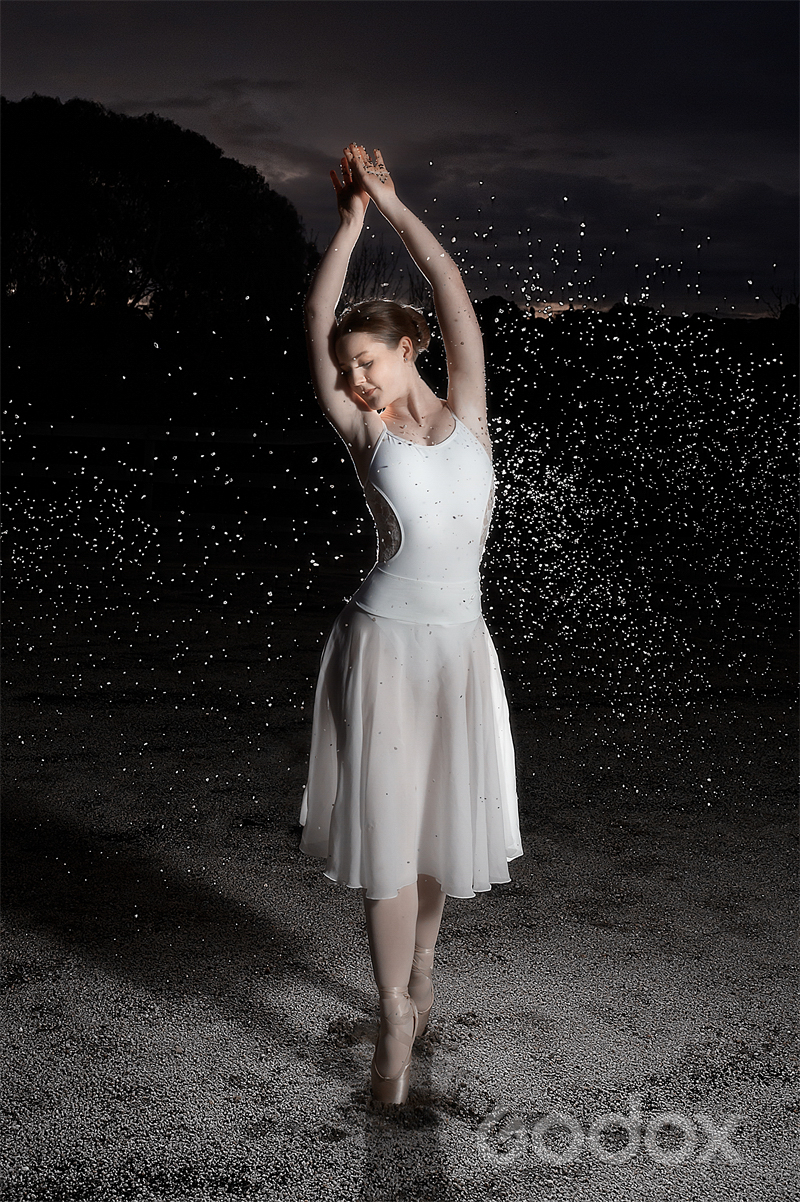 AD100Pro + UBL-085T + Dome
AD100Pro bare bulb