Director Jameson Brooks shows how he used Godox SZ150R, UL150, ML60, and TL60 with gobos and mirrors to transform a location to be more vivid and cinematic.
Background
Hello everybody and welcome to Godox Film Lighting 101. Today, we'll be lighting with some mirrors and gobos. Let's check it out.
As a filmmaker, it happens more than I'll ever admit…but how many times have you shown up to a film location, sight and unseen, and the location is…well, boring. Sometimes it's a boring corporate office, or a plain house that lacks any character. Luckily, there are some lighting tools we can experiment with to give any location some character of its own.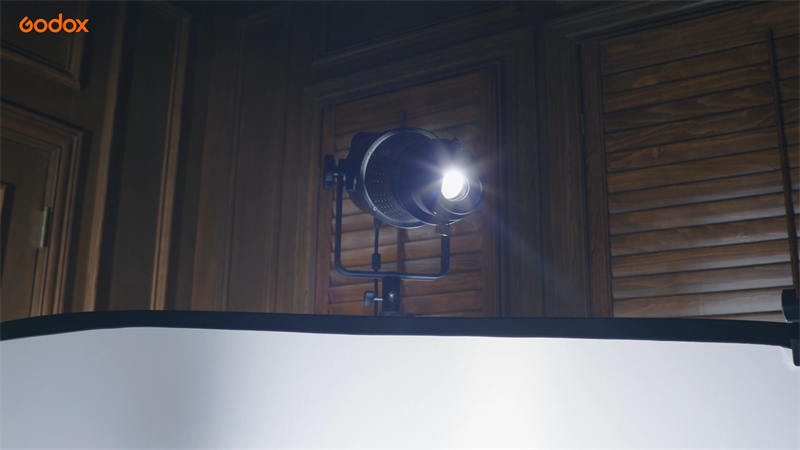 In this episode we're gonna transform this boring location…into something with a little more life.
So, here's what the location looked like with the house lights on when I started out. Pretty dull. Everything from the floor…to the walls…to the bookshelf were all the same color. This place definitely needed some definition.
I found a lamp that I thought would nice to use as a practical source, so that's the first thing that I placed. I then built the lighting around this source.
Setup 1
From here, I wanted to add some shape to the bookshelf in the background. I took a Godox SZ150R, and angled it from the direction I wanted my motivated light to come from.
Space was very limited at this location, so I used the Godox Projection attachment with the 85mm lens and a gobo. This was the perfect solution for adding some extra detail to the scene in such a confined area. The projection attachment connects to the bowens mount on your light, and creates a spotlight.
You can sculpt the spotlight with framing shutters, scrims and gobos. Godox has several different sets of gobos to choose from. These gobos cut the light in various shapes and patterns, creating a nice lighting effect.
For this shoot, I used a gobo that I thought helped mimic shadows that flowers and trees would cast across the background.
This light was set to daylight balance of 5600k and 100% power.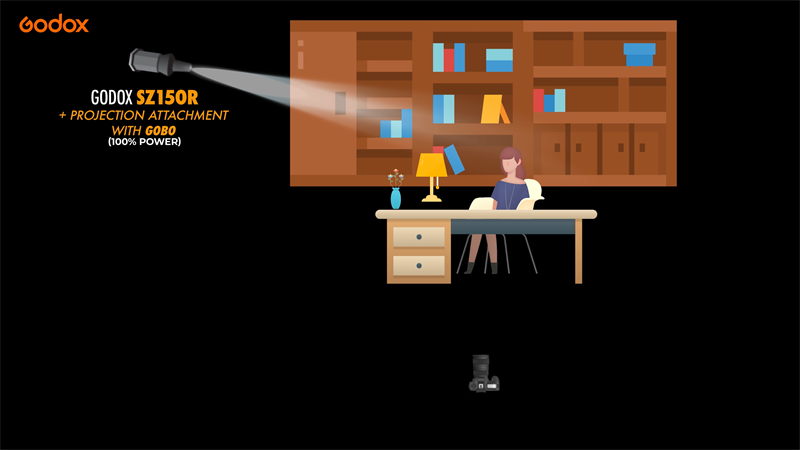 Setup 2
From here, I added a Godox UL150 as my key light. I clamped a frosted gel over the front to help soften the light a bit. I then set up a Godox 5 in 1 Reflector directly in front of the UL150.
The white screen helps diffuse the bright light while also casting motivated ambient light across the side of the room and subject similar to how a window would. The diffusion it creates also helps soften the light for better skin tones on the subject. This light was set to 54% power.
This helps add reflections and realistic motivated textures throughout the scene.
Using mirrors can also help draw interest to a particular object or area. Depending on your set up you could even direct a light to multiple mirrors for even more randomized reflections of scattered light throughout the room.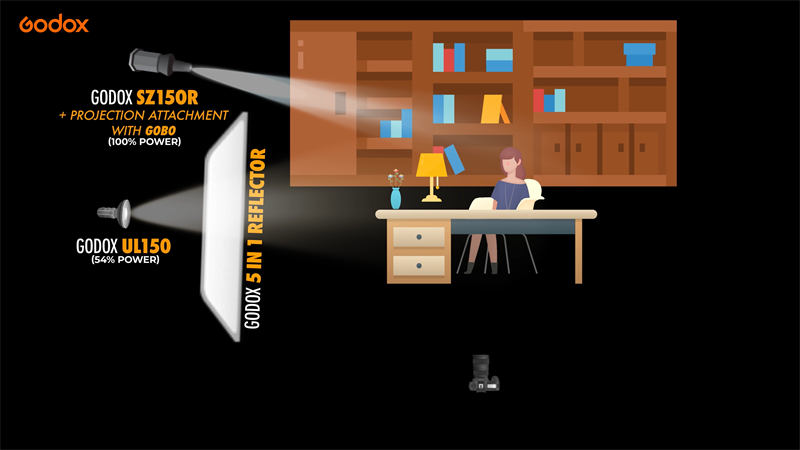 Setup 3
For this set up I used a plastic mirror that I clamped to a stand. I used black gaff tape to create pin strips on the mirror. This helps break up the light reflections a little more. The Godox ML60 was set to 80% power.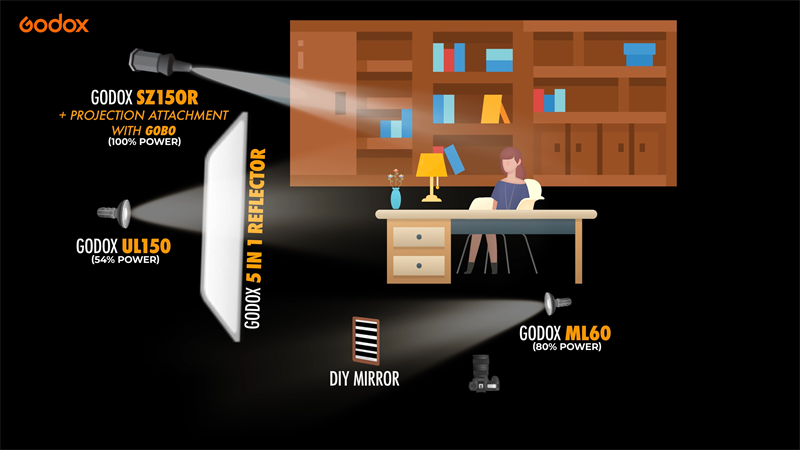 Setup 4
For the final touch, I added a Godox TL60 as the subject's hair light. The idea here was to boost the illumination coming form the lamp in the background. The TL60 is extremely lightweight, and is easy to place anywhere. It also has full RGB color, so I was able to dial in the exact setting to match the color temperature of the lamp. I set this light to a Hue of 36 degrees, saturation to 77 and Power to 19%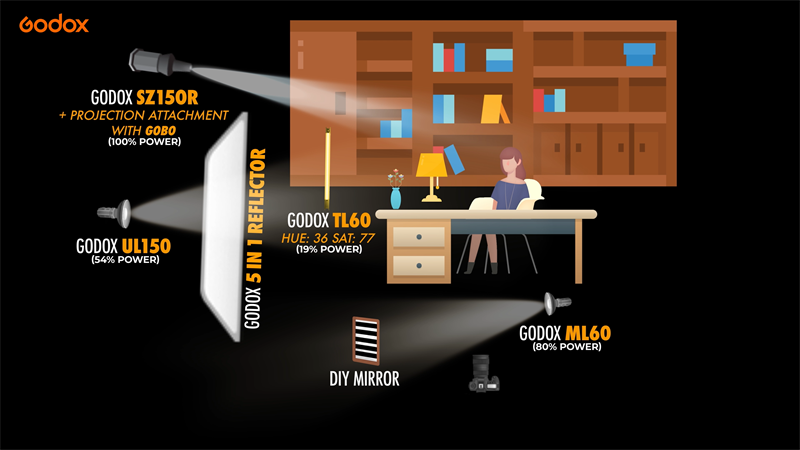 And there you have it. Using Gobos and mirrors is a great way to add some character to any scene.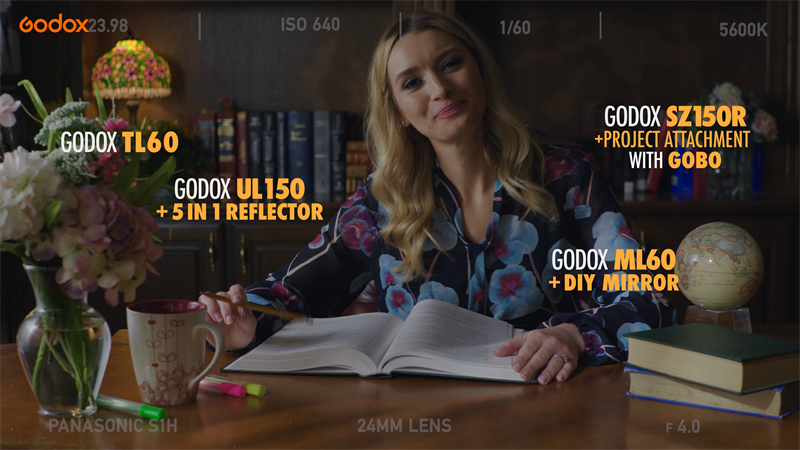 Godox offers a one-stop-solution for all your filmmaking needs. From lights, to monitors, to audio, to stands, to grip and staging essentials. They've definitely thought of everything.